Beach Weddings
A Martha's Vineyard Wedding
Beach weddings on Martha's Vineyard have become very popular in the last few years, making the island a hot spot for destination weddings.
Beautiful scenery, charming venues, top-notch service and a relaxed, romantic atmosphere all attract brides and grooms each year between May and October.
Many wedding couples have connections to the island, but others have simply visited and fallen in love with the features of the Vineyard.
Weddings have become such a hot item on the island, the Martha's Vineyard Chamber of Commerce has developed a specific section of their website devoted to wedding planning.
You may register to save information, email them with special requests and request informative publications for yourself and guests. Visit their wedding planning page.
TIP: The Vineyard Gazette is offering a FREE
wedding planner
with a directory of businesses that service weddings, tips and suggestions, a list of locations, and more
Here a "top 10" list of the best destination weddings worldwide.
There are so many choices for wedding flowers...we have some ideas for bridal bouquet design.
Beach Casual Wedding Dress
A wedding on the beach offers a less formal setting and provides an opportunity to choose a different style wedding dress. See some ideas here for a
beach casual wedding dress
Beach Wedding Cakes
Here are some ideas for a
beach wedding cake
...as well as names of folks and bakeries on the Vineyard that will create special cakes for your wedding
Cupcakes are a popular trend for weddings now. See some cool cupcake wedding cakes
Beach Wedding Shoes
Weddings on the beach require a different approach to shoes. Here are some ideas for beach
wedding shoes
Bridesmaid Tote Bags
Here are some cool
bridesmaid tote bags
from
The Black Dog
on Martha's Vineyard.
Wedding Tote Bags
Vineyard Vines
also has bags that could be
wedding tote bags
Mens Beach Wedding Attire
You have a chance to wear some cool clothing for a wedding on a beach. Here are some ideas for mens beach
wedding attire
Wedding Flower Bouquets
Here are some ideas for
bridal bouquet design
.
Daisy Wedding Bouquets
See some ideas for popular
gerber daisy wedding bouquets
.
May Wedding Flowers
Looking for flowers for a May wedding ? Here are some ideas for
May wedding flowers
June Wedding Flowers
Looking for flowers for a June wedding ? Here are some ideas for
June wedding flowers
July Wedding Flowers
July is one of the "peak summer" months. Pink, yellow, orange, lavender and light blue are some great color choices. Here are some ideas for
July wedding flowers
August Wedding Flowers
August offer some bold choices for flowers. Here are some ideas for
August wedding flowers
September Wedding Flowers
There are many September wedding flowers to choose from. This time of year gives you more flexibility with flowers than Winter or Summer. Here are some ideas for
September wedding flowers
October Wedding Flowers
Looking for flowers for an October wedding ? Here are some ideas for
October wedding flowers
December Wedding Flowers
December weddings can incorporate the spirit and colors of the Holidays. Here are some ideas for
December wedding flowers
Pink Bridal Bouquet
This page has some great ideas and photos of
pink bridal bouquets
Blue Bridal Bouquet
Here are some pictures of
blue bridal bouquets
Beach Wedding Gifts and Ideas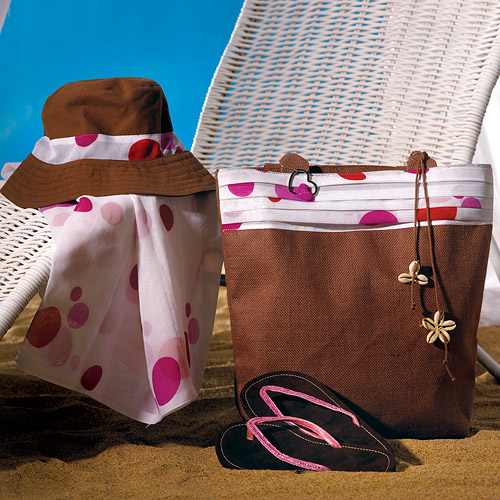 Chocolate Brown and funky Polka Dots adorn this new bag and crusher hat. A sarong in matching polka dots make these hip and happening accessories for a beach wedding or honeymoon. Each piece sold individually for maximum flexibility.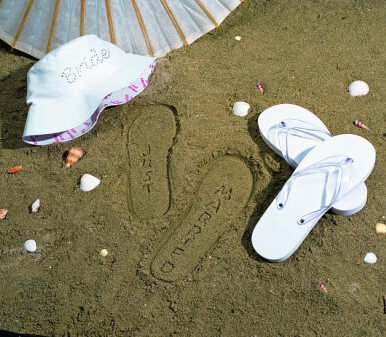 These Womens Sandals by Beverly Clark are perfect for a beach wedding or honeymoon getaway. These adorable flip flops feature "Just"on one sandal and "Married"on the other to make perfect impressions in the sand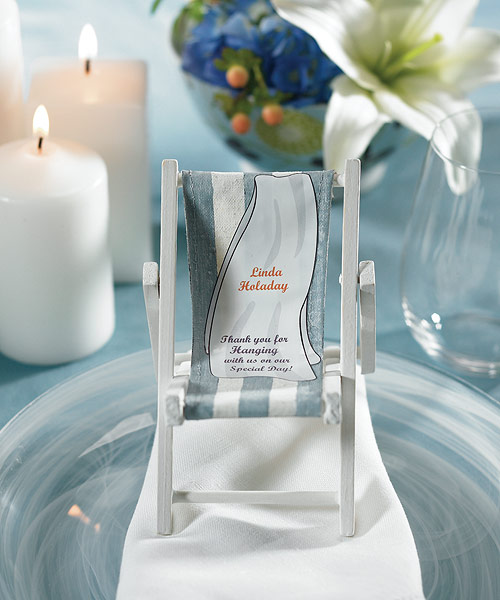 Whether its a destination wedding or you're lucky enough to live near the water these fabulous beach items will complement your wedding with style. Add a beach towel sticker and create unique place card holder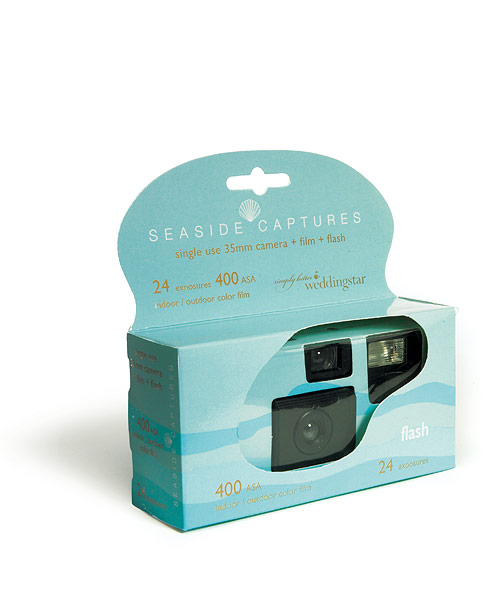 Capture the special moments that are often missed by including in your festivities this camera with beach themed packaging. Invite guests to snap photos throughout the celebration. Have a group of cameras displayed in a convenient location with easy access or set a single camera per table alongside each centerpiece.
---
Thinking About Eloping ?
Elope in Massachusetts
A complete guide to romantic elope weddings in Massachusetts, including Cape Cod.
---
Do It Yourself Wedding Flower Ideas
Return from Beach Weddings to Martha's Vineyard Vacation Tips